Ingredients - Beetroot Overview

5 min read | Beetroot Overview
Common Use: Aid digestion, improve gut health, and fight inflammation
Overview: Clinical studies have shown that beetroot can improve overall digestive health and help you feel fuller for longer due to its high fibre content. It also contains an array of vitamins and minerals which are essential for women's health.
Written by: Dr. Fayyaz Afzal, MD
Beetroot is a nutrient dense vegetable rich in essential vitamins and minerals. Not only is it considered a superfood but may also alleviate digestive problems and inflammation. Keep reading to learn more about this potent purple plant.
1. Improve Digestion and Gut Health
Beetroot is becoming a popular way to feel fuller for longer and
improve overall digestive health
due to its high fibre content. Fibre helps to keep your gut healthy by bulking up your stools, fostering movement through your intestine, and helping the body absorb nutrients.
Beetroot contains both soluble and insoluble fibres which also promote healthy cholesterol levels. Perhaps most importantly, its naturally high level of dietary fibre helps to reduce feelings of hunger while providing long lasting satisfaction and improving overall digestion.
Whether eaten as part of a meal or in the form of a juice or smoothie, incorporating beetroot into your regular diet can help you reap the many benefits of its fibre content!
2. Essential Nutrients and Vitamins
Beetroot is a wonderful source of
essential nutrients
, vitamins, and minerals like iron that can help women to stay healthy.
Beetroot is packed with key vitamins and antioxidants like vitamin C, magnesium and manganese, plus notable amounts of potassium, phosphorus, and B-vitamins.
It can help balance hormone levels, supports cardiovascular health by increasing nitric oxide production and dilating the blood vessels in the body.
3. May Help Fight Inflammation
Beetroot is quickly becoming the go-to natural remedy for
inflammation
. Various studies have shown that it contains anti-inflammatory properties, thanks to a variety of compounds found within the vegetable.
When it comes to medicinal purposes, beetroot is known to relieve symptoms such as swollen joints and soreness. Beetroot has also been linked to reducing the risk for some types of cancer, particularly colorectal cancer.
4. Improve Cardiovascular Health
Studies have shown that the unique properties of beetroot can support
heart health
in a number of ways. Firstly, it helps to reduce blood pressure when consumed on a regular basis.
Additionally, research has revealed that compounds within beetroot may help to decrease levels of bad cholesterol in blood vessels, decreasing the risk of dangerous obstructions in the arteries.
Lastly, consumption of beetroot may also improve circulation by dilating blood vessels and reducing inflammation. All these actions contribute to improved overall cardiovascular health, making this nutritious and colorful vegetable a wise choice for anyone looking to shield their heart from disease.
So, if you're looking for an all-natural way to ease menstrual symptoms, beetroot may be a good solution for you. Beetroot is easy to add to your diet and provides many health benefits in addition to relieving cramps.
Thiruvengadam, M., Chung, I.-M., Samynathan, R., Chandar, S. R. H., Venkidasamy, B., Sarkar, T., Rebezov, M., Gorelik, O., Shariati, M. A., & Simal-Gandara, J. (2022). A comprehensive review of beetroot (Beta vulgaris L.) bioactive components in the food and pharmaceutical industries. Critical Reviews in Food Science and Nutrition, 1–33. https://doi.org/10.1080/10408398.2022.2108367
Baranauskas, M. N., Altherr, C. A., Gruber, A. H., Coggan, A. R., Raglin, J. S., Gupta, S. K., & Carter, S. J. (2021). Beetroot supplementation in women enjoying exercise together (BEE SWEET): Rationale, design and methods. Contemporary Clinical Trials Communications, 21, 100693. https://doi.org/10.1016/j.conctc.2020.100693
‌ Wisor, J. P., Holmedahl, N. H., Saxvig, I. W., Fjeldstad, O.-M., Weitzberg, E., Grønli, J., & Engan, H. K. (2021). Effect of Dietary Nitrate Supplementation on Sleep in Chronic Obstructive Pulmonary Disease Patients. Nature and Science of Sleep, Volume 13, 435–446. https://doi.org/10.2147/nss.s279395
‌ Domínguez, R., Maté-Muñoz, J. L., Cuenca, E., García-Fernández, P., Mata-Ordoñez, F., Lozano-Estevan, M. C., Veiga-Herreros, P., da Silva, S. F., & Garnacho-Castaño, M. V. (2018). Effects of beetroot juice supplementation on intermittent high-intensity exercise efforts. Journal of the International Society of Sports Nutrition, 15(1). https://doi.org/10.1186/s12970-017-0204-9
‌ Clifford, T., Howatson, G., West, D., & Stevenson, E. (2015). The Potential Benefits of Red Beetroot Supplementation in Health and Disease. Nutrients, 7(4), 2801–2822. https://doi.org/10.3390/nu7042801
De Oliveira, S. P. A., do Nascimento, H. M. A., Sampaio, K. B., & de Souza, E. L. (2020). A review on bioactive compounds of beet (Beta vulgaris L. subsp. vulgaris) with special emphasis on their beneficial effects on gut microbiota and gastrointestinal health. Critical Reviews in Food Science and Nutrition, 61(12), 2022–2033. https://doi.org/10.1080/10408398.2020.1768510
‌Clifford, T., Howatson, G., West, D., & Stevenson, E. (2015). The Potential Benefits of Red Beetroot Supplementation in Health and Disease. Nutrients, 7(4), 2801–2822. https://doi.org/10.3390/nu7042801
‌Eggebeen, J., Kim-Shapiro, D. B., Haykowsky, M., Morgan, T. M., Basu, S., Brubaker, P., Rejeski, J., & Kitzman, D. W. (2016). One Week of Daily Dosing With Beetroot Juice Improves Submaximal Endurance and Blood Pressure in Older Patients With Heart Failure and Preserved Ejection Fraction. JACC: Heart Failure, 4(6), 428–437. https://doi.org/10.1016/j.jchf.2015.12.013
Babateen, A. M., Shannon, O. M., O'Brien, G. M., Okello, E., Smith, E., Olgacer, D., Koehl, C., Fostier, W., Wightman, E., Kennedy, D., Mathers, J. C., & Siervo, M. (2022). Incremental Doses of Nitrate-Rich Beetroot Juice Do Not Modify Cognitive Function and Cerebral Blood Flow in Overweight and Obese Older Adults: A 13-Week Pilot Randomised Clinical Trial. Nutrients, 14(5), 1052. https://doi.org/10.3390/nu14051052
Life Is Complicated, Solutions Shouldn't Be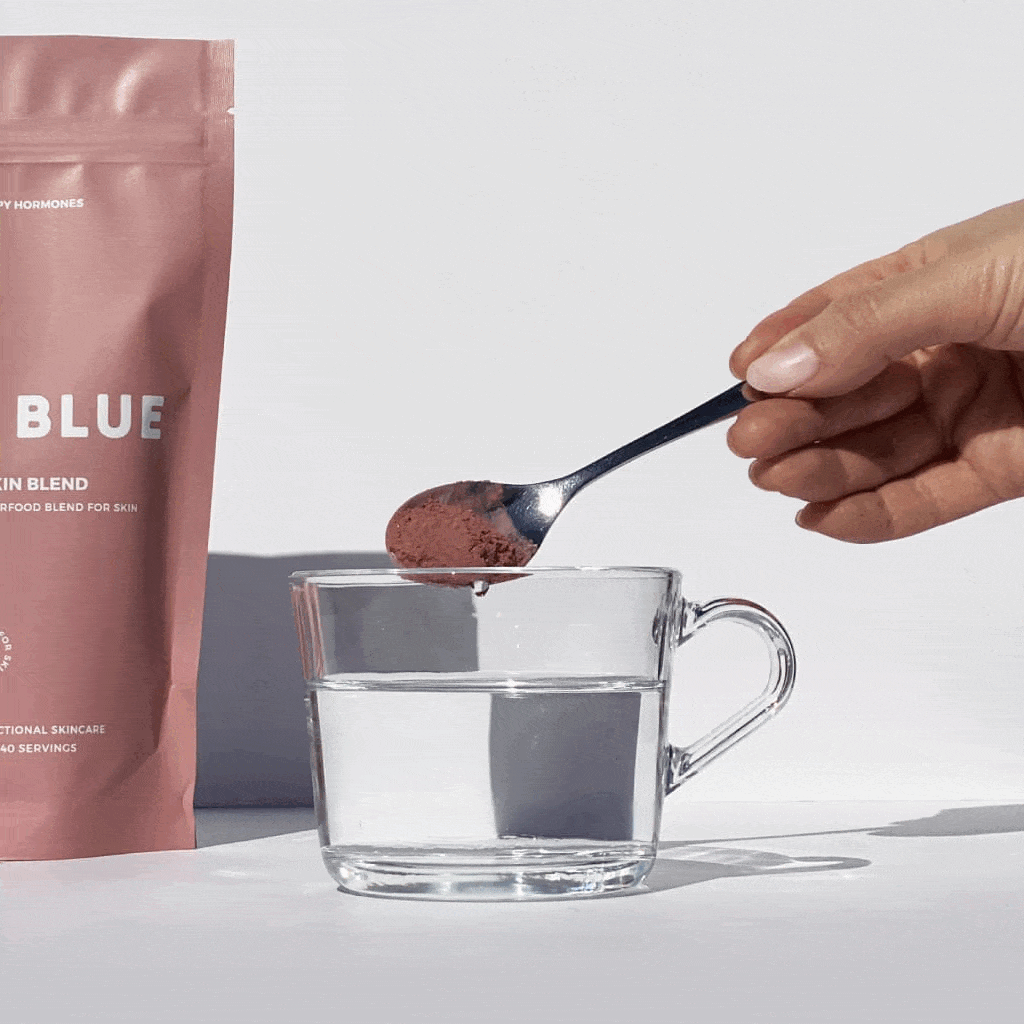 Get Your Bliss Back With A Natural Solution
This hormone-balancing formula adapts to your body's unique needs and challenges, so you can enjoy balanced hormones as you go through Perimenopause, Menopause, PCOS and their irritating symptoms such as cramps, hot flashes and mood swings.
Want 14% off + Free Shipping?
Unlock tips, tricks, recipes, and rituals. Unsubscribe anytime.
*These statements have not been evaluated by the Food and Drug Administration. This product is not intended to diagnose, treat, cure, or prevent any disease.