Ingredients - Hibiscus Overview

10 min read | Hibiscus Overview
Common Use: Anti-aging properties, flavor profile, anti-bacterial properties, and calming effects
Overview: Hibiscus Sabdariffa is rich in vitamins, minerals, and antioxidants that may slow down the effects of ageing caused by free radical damage to cells. Taken daily, it can promote calm and help reduce bacterial growth.
Written by: Dr. Fayyaz Afzal, MD
It's that time of the month again - cramps, mood swings, and bloating. For some women, these symptoms can be debilitating. Hibiscus may be the answer if you're looking for a natural way to ease your menstrual symptoms.
The hibiscus plant is a beautiful flowering plant that comes in various colours, with red Hibiscus the most popular type. Hibiscus plants are native to tropical regions and require warm temperatures and sunlight to bloom. Keep reading to learn about the benefits of Hibiscus for menstrual symptoms.
1. Hibiscus and Menopause
Menopause is a time linked with significant change for women.
Hormone levels fluctuate
, sleep patterns are disrupted, and hot flashes become a regular occurrence.
While there is no cure for menopause, there are things that can be done to ease the symptoms. One such remedy is Hibiscus. Studies show that hibiscus may reduce hot flashes, improve sleep quality, and relieve anxiety and depression.
Additionally, Hibiscus is rich in antioxidants and helps to protect against osteoporosis which is prevalent in older women. So, if you're looking for relief from the symptoms of menopause, reach for some hibiscus.
When it comes to
digestive problems
, Hibiscus is a true powerhouse. This flower has been used for centuries to relieve bloating, flatulence, and indigestion. And there's a good reason: Hibiscus is packed with nutrients that support a healthy digestive system.
For instance, Hibiscus contains high vitamin C levels, which helps break down food and absorb nutrients. It also contains flavonoids, which are known for their anti-inflammatory properties.
In addition, Hibiscus has a calming effect on the digestive system, helping to relieve cramps and another discomfort. So if you're looking for natural relief from digestive problems, reach for some hibiscus.
3. Calm Mood Swings & Stress
Hibiscus is a tropical flower used for centuries in traditional medicines. Today, Hibiscus is gaining popularity as a natural remedy for
mood swings and stress
. Numerous studies have shown that Hibiscus can help to reduce anxiety and improve mood.
One study found that hibiscus extract was as effective as the popular antidepressant, imipramine, in reducing anxiety symptoms. Hibiscus has also been shown to lessen blood pressure and heart rate, which are often elevated during stress.
In addition, Hibiscus is rich in antioxidants and essential vitamins that can help to boost energy levels and promote overall health. So next time you feel frazzled, reach out for hibiscus.
Hibiscus has been gaining attention for years due to its incredible
anti-ageing properties
. Rich in vitamins, minerals and antioxidants, Hibiscus has the ability to protect cells from damage by free radicals caused by UV exposure, inflammation, and toxins. It is believed that it its helps to keep skin younger looking longer than some other natural ingredients. Studies have found that this flower extracts are particularly effective at reducing wrinkles and fine lines as well as decreasing skin dryness or dehydration which is often associated with the ageing process. This makes Hibiscus an ideal ingredient for those looking to target signs of ageing in a natural yet incredibly effective way.
5. Anti-Bacterial Properties
A hibiscus plant is well known for its
anti-bacterial properties
and has been in use as an herbal medicine to treat an array of illnesses since ancient times. Modern medicine is now actively studying the potential healing powers of this powerful herb with scientific studies dating back over two decades.
Research reveals that the flowers packed with medical benefits contain rich sources of polyphenols, polysaccharides and even essential oils that are all powerful anti-bacterial agents, which can be used in treating sore throats, colds and other infections.
Additionally, studies show how hibiscus tea also has antibacterial properties such as fighting skin infections, staphylococcal infections and more.
6. Vibrant Flavor Profile
Hibiscus has a distinct flavor profile. Many professional chefs and mixologists pride themselves on incorporating Hibiscus into their recipes due to the versatility that it offers. Given its unique taste, it pairs well with many different kinds of foods, including fruits and salads. For drinks, it is especially popular for use in teas and cocktails when combined with other ingredients to create an exceptional tasting beverage. Though its natural flavors can stand alone when brewed into a tea, most people enjoy adding some milk and sweetener to give the drink an even more delightful flavor profile. Whether served hot or cold, Hibiscus contains an abundance of excellent flavor.
If you're searching for an all-natural way to ease menstrual and menopausal symptoms, Hibiscus is a good choice for you. Not only is this flowering species a beautiful addition to any garden, it is also teeming with useful medicinal qualities.
Riaz, G., & Chopra, R. (2018). A review on phytochemistry and therapeutic uses of Hibiscus sabdariffa L. Biomedicine & Pharmacotherapy, 102, 575–586. https://doi.org/10.1016/j.biopha.2018.03.023


‌‌ Amos, A., & Khiatah, B. (2021). Mechanisms of Action of Nutritionally Rich Hibiscus sabdariffa's Therapeutic Uses in Major Common Chronic Diseases: A Literature Review. Journal of the American Nutrition Association, 41(1), 116–124. https://doi.org/10.1080/07315724.2020.1848662


‌‌ McKay, D. L., Chen, C-Y. O., Saltzman, E., & Blumberg, J. B. (2009). Hibiscus Sabdariffa L. Tea (Tisane) Lowers Blood Pressure in Prehypertensive and Mildly Hypertensive Adults. The Journal of Nutrition, 140(2), 298–303. https://doi.org/10.3945/jn.109.115097
‌‌Nade, V., Kanhere, S., Kawale, L., & Yadav, A. (2011). Cognitive enhancing and antioxidant activity of ethyl acetate soluble fraction of the methanol extract of Hibiscus rosa sinensis in scopolamine-induced amnesia. Indian Journal of Pharmacology, 43(2), 137. https://doi.org/10.4103/0253-7613.77347
Dos Santos Nascimento, L. B., Gori, A., Raffaelli, A., Ferrini, F., & Brunetti, C. (2021).
Phenolic Compounds from Leaves and Flowers of Hibiscus roseus: Potential Skin Cosmetic Applications of an Under-Investigated Species. Plants, 10(3), 522. https://doi.org/10.3390/plants10030522
‌Higginbotham, K. L., Burris, K. P., Zivanovic, S., Davidson, P. M., & Stewart, C. N. (2014). Antimicrobial Activity of Hibiscus sabdariffa Aqueous Extracts against Escherichia coli O157:H7 and Staphylococcus aureus in a Microbiological Medium and Milk of Various Fat Concentrations. Journal of Food Protection, 77(2), 262–268. https://doi.org/10.4315/0362-028x.jfp-13-313
‌Ngan, L. T. M., Tan, M. T., Hoang, N. V. M., Thanh, D. T., Linh, N. T. T., Hoa, T. T. H., Nuong, N. T. M., & Hieu, T. T. (2021). Antibacterial activity of Hibiscus rosa-sinensis L. red flower against antibiotic-resistant strains of Helicobacter pylori and identification of the flower constituents. Brazilian Journal of Medical and Biological Research, 54(7). https://doi.org/10.1590/1414-431x2020e10889
Mohamed-Salem, R., Rodríguez Fernández, C., Nieto-Pelegrín, E., Conde-Valentín, B., Rumbero, A., & Martinez-Quiles, N. (2019). Aqueous extract of Hibiscus sabdariffa inhibits pedestal induction by enteropathogenic E. coli and promotes bacterial filamentation in vitro. PLOS ONE, 14(3), e0213580. https://doi.org/10.1371/journal.pone.0213580
Life Is Complicated, Solutions Shouldn't Be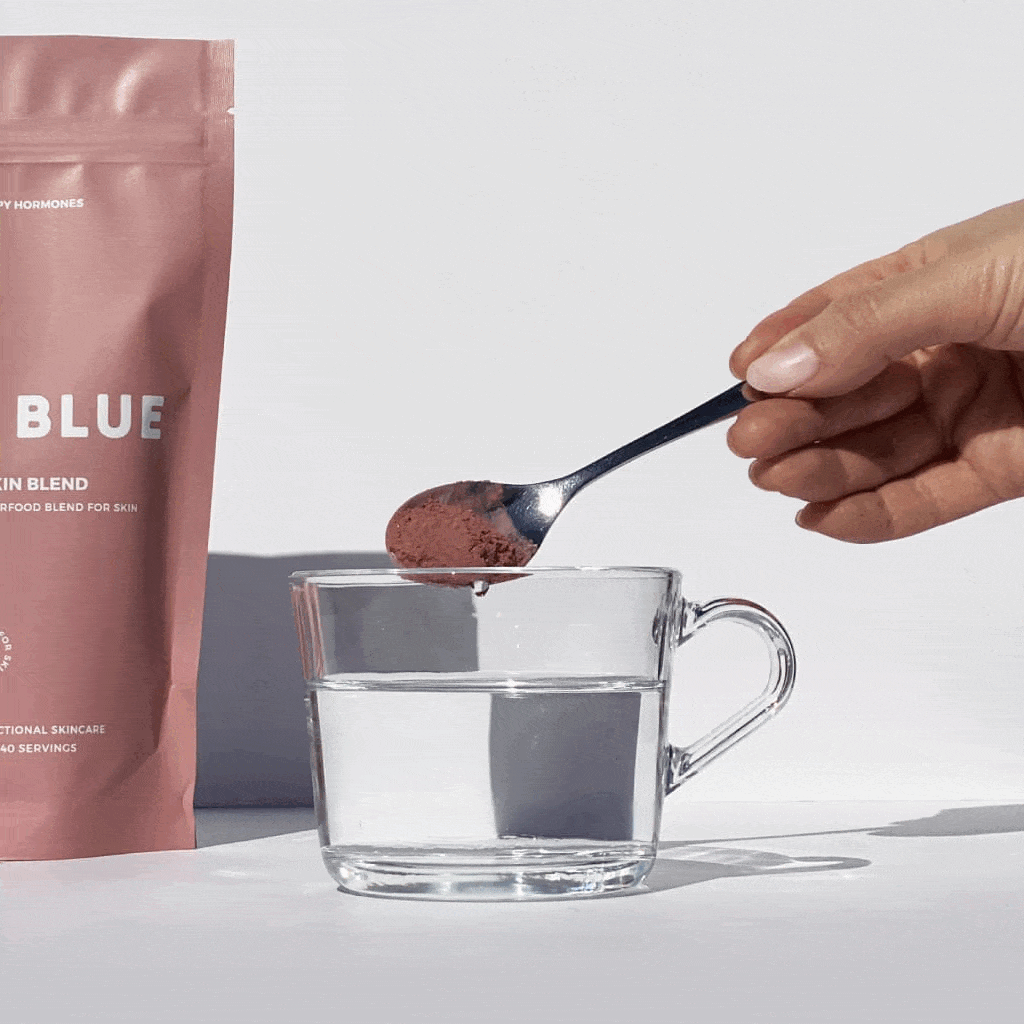 Get Your Bliss Back With A Natural Solution
This hormone-balancing formula adapts to your body's unique needs and challenges, so you can enjoy balanced hormones as you go through Perimenopause, Menopause, PCOS and their irritating symptoms such as cramps, hot flashes and mood swings.
Want 14% off + Free Shipping?
Unlock tips, tricks, recipes, and rituals. Unsubscribe anytime.
*These statements have not been evaluated by the Food and Drug Administration. This product is not intended to diagnose, treat, cure, or prevent any disease.